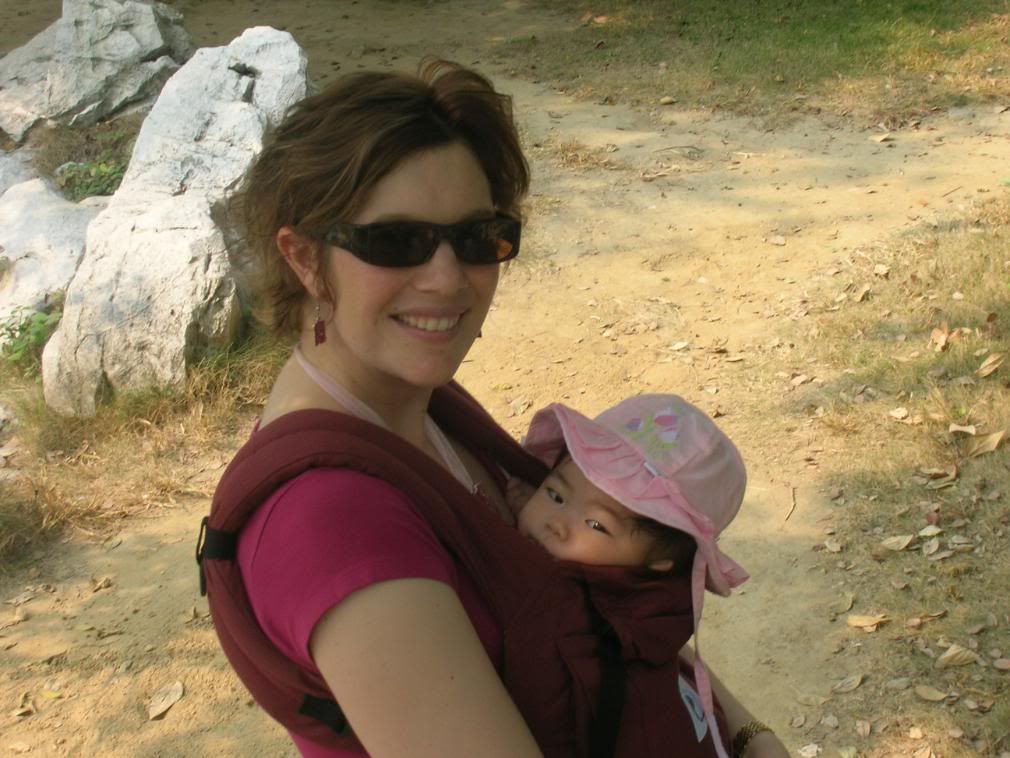 Hi guys. I sure hope that you are able to read these posts, as I still can't access my blog for some bizarre reason. Hey, I guess I am in China!! Today was an interesting one. After another full night's sleep (yay!!) we headed off to the Nanchang zoo. I must admit that it saddened me greatly. There was just one panda, kept in a glassed-in enclosure probably the size of the average lounge room. There was also a gorgeous sun bear in a similar enclosure, and his behaviour was very distressing - pacing back and forth continually, trying to get out I guess. There were lots of unusual birds, some old and tired looking Lions and a giraffe, but thankfully not much else.
After the zoo we came back to the Jin Feng (which is fantastic) and when DH and Alice were having their afternoon nap I decided to be adventurous and go to the huge market that I had already been to earlier in the week. I got the guy behind the desk at reception to write my destination on a card for the taxi driver, and off I went. I was a little concerned when I noticed that she headed off in the wrong direction, but thought that perhaps she was just taking a short cut. She then pulled up outside a huge department store and tried to get me out of the taxi. In my very poor Chinese (with the help of a phrase book) I attempted to tell her where I actually wanted to go. I thought she understood. I was wrong. After a 20 yuan taxi ride (which is a loooong way) she dumped me outside another department store in a part of the city I had never seen before. I decided to go in and have a look, but it really wasn't what I wanted, so tried to ask people (using the trusty phrase book) if they a) spoke English and b) could point me in the right direction to the market. The result - NO ONE spoke English (well, it is China) so I ended up hailing another cab back to the hotel. Tell you what, I felt like a stiff drink after that little adventure - Chinese drivers are all insane, and no=one takes any notice of the road rules. I decided to be brave and have the whole full-on China experience by sitting in the front seat for both rides. BIG mistake. I lost count of the number of near-death experiences we narrowly missed, not to mention the pedestrians and cyclists we almost mowed down. I was so very thankful when we pulled up at the hotel I almost kissed the cab driver.
Aside from the above adventure, we are all having a ball. Alice is the most delightful baby EVER!!! She sleeps 12 hours per night, has two naps during the day, laughs, giggles and pulls funny faces, and is saying 'mama'. She only cries when there is something wrong (tired, hungry, needing to fart) and is an absolute joy to have as our daughter. God has truly blessed us.
Must sign off for now - baby is asleep and I need to be too. Until next time, zai jian!