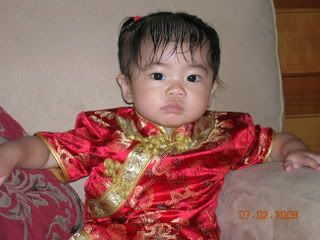 Or Happy New Year for those non-Mandarin speakers (like myself) out there! Admittedly, I am a day late, as the Year of the Rat started yesterday, but I wanted to wish all my very special cyber-pals a very happy New Year. I have moved on from the doom and gloom of my last post (Suzie Sunshine is back OziMUm!!) and after having a few days throwing a great big pity party for myself have decided to get on with life and not brood about 'maybes'. I will be peppering my opthomologist with questions when I see him on the 20th, hopeful that he may be able to shed a bit more light on this stupid disease. If not - well, I can see today and that's all that matters.
I have just had a very exciting time GETTING ORGANIZED. Those who know me personally will know that I am a big fan of GETTING ORGANIZED (read: obsessive compulsive!) I received in the mail today a huge order of Asian-themed scrapbooking supplies from my lovely cyber-pal in Queensland,
Shell.
I have joined the China Life Book Yahoo group, and my project for this year is to produce a fantastic lifebook for Alice. So now I have all the supplies in the one box, I have oodles of ideas and just need to make the time to start!!
Back to CNY - we had a great lunch yesterday. A group of about 20 of us, including eight girls from China, headed out to the local Chinese restaurant for a celebration of all things Rat. Luckily it wasn't on the menu, and the food was great. Conversation was easy, the company fabulous and all the girls seemed to enjoy themselves thoroughly. The only thing to spoil the day was two cranky old people sitting at a table nearby who shot daggers at us the whole time. Perhaps they thought we had stolen the children?? Anyway, we had a great time and it was lovely to catch up with two of Alice's batch buddies again.
I must sign off for now as I can hear Alice stirring - an HOUR too early!!! Enjoy the pic of Miss A in her CNY finery. Note she is wearing her 'not another stinkin' photo' look....
PS - big hugs going out to all my beautiful friends who have left such kind messages for me. Thank you all for your unconditional love, support and prayers. I feel truly blessed to know so many wonderful people. xxx